REBORN DOLL SHOP
BABY DOLL of the WEEK
April 15, 2016
Ultra Realistic Reborn Baby Doll Babsi
By Reborn Artist Silvia
Silvia Creations Reborn Dolls
Reborn Doll of The Week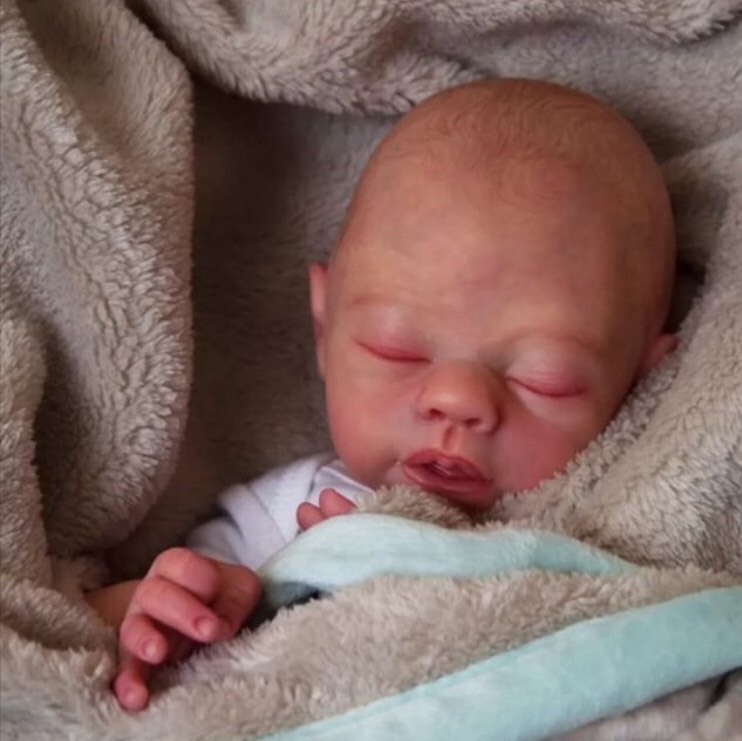 Click PIC To SEE Doll AdoptioN DETAILS

DESCRIPTION & REBORN ART DETAILS
*Strawberry Blonde Rooted Eyelashes; Realistic 3D Painted Hair Detailed Baby Complexion; Prototype Babsi Sculpt By Pro Sculpt Artist Ulrike Gall; Soft Cuddly Body Preemie 2.2 lbs, 17" Long; Full Arms & Legs Beautifully Detailed; Artists Choice Layette
*VIEW ALL BABY DOLLS AT ADOPTION NOW*
ABOUT REBORN BABY DOLLS - Reborn Baby Dolls have been an evolving art form for over a decade and the sculpt artists and reborn artists who are the creators of these life like baby dolls have been rapidly gaining more tools, expertise, artistic skill and imagination as the years of training and experience give them the powerful talent necessary to make a doll, made of vinyl, paint, mohair & fillings, look as if it is a living baby.  This multi talented discipline is one of the most extraordinary art genres in the history of art and I have an enormous amount of awe and respect for the gifted talents of the reborn artists who have developed the art of reborning to the heart reaching level it has reached in 2012.
Many people, when they see someone carrying a reborn doll, are convinced that these little dolls are actual newborn babies - they do truly look real!  Many people are finding the life like baby dolls to be comforting and healing to those who are in distress.  Some of the higher end dolls even have a breather mechanism that makes them move as if they were actually breathing or a heart that beats like a real baby when you hold it.
If you are interested in having a reborn baby doll, then you are probably wondering where you can buy one?  Most reborn artists these days are listing their creations on ebay, where buyers can view large detailed photos and descriptions of each doll and then purchase it securely with guaranteed shipping on the trusted ebay stores & auctions.  You will find the best and the most realistic reborn dolls listed for sale in our baby doll shop store pages.
Our Reborn Doll Store Pages
NEWLY ARRIVED REBORN DOLLS   Just arrived and ready to adopt.
BY AGE & BIRTH WEIGHT  Preemie   Newborn   Toddler
SILICONE REBORN DOLLS The latest in cuddle technology, these ultra squishy soft solid silicone reborn dolls are the softest baby dolls ever made.
PROTOTYPES & NEW RELEASE SCULPTS   Beautifully reborned baby dolls from the latest new sculpts.
TUMMY  BELLY  TUSHIE PLATE BABY DOLLS   Reborns with a realistic "plate" for the tummy, belly, back and or tushie.
BY ETHNICITY   AA, Biracial    Asian    Native & East Indian
BY GENDER   Baby Boy Dolls    Baby Girl Dolls    Unisex Baby Dolls
BY PRICE   Less than $250    $251 - $500     $550 - $5,000
BY SPECIAL SEASON   Halloween    Christmas
BABY DOLLS BY REBORN ARTIST All of the professional reborn artists are listed alphabetically by first name in the REBORN ARTIST DIRECTORY.  Each reborn doll artist has a store page, which displays all of their latest baby dolls listed for sale online. Reborn doll artists included are as follows:   Hollmann Hollis - Little Chicks,  Brandy Beayon - Full Moon Babies,  Eileen Nicholas - Gifts From The Heart Nursery,   Elizabeth Townsley - Bye Bye Babies,   Brenda - Brenda's Little Angels,   Jean Campbell - Grama's Forever Babies,  Ginny Westley - Loving Touch Nursery,  Joanne Donovan - Lullaby Lake Nursery,   Julia - Peaches & Cream Babies Nursery,   Ruth Annette - Precious Dreams,   Amanda Young - Bespoke Babies,   Melissa George - Bundles of Love Nursery,  Lynn Katsaris - Pumpkin Patch Nursery,   Helen Jalland - Tinkerbell Nursery,  Cassie Peek - Babydust Nursery,   Carine Devriese - Carine Reborns,   Jacalyn R. Cassidy of Twinkletoe Nursery,   Mimadolls - Precious Babies Nursery,   Sharon Bergstein - Momma B's Nursery,   Sylvia Jantzen - Little Dreamland Nursery,   Stephanie Lefevbre - Le Paradis des Boutchoux,   Selena Saxton - S'Real Nursery,    Alexandra Taylor-Hughes of Alexandra's Babies,   Jorja Pigott - Pigotts Playpen,   Beverly's Inspired Creations,   Kerstin Foppe - Puppen & Palmen,   Kandy - Queen's Crib Nursery,   Yolanda Gomez - Blossom Baby Nursery,   Susan Van Orman - Lullaby Lane Studio,   Lilia Ziems - Lilias Baby,   Gina Tobin - Heaven's Breath Nursery,   Linda Burt - Lill B'ees Reborn Nursery,  Kustom Kraft Nursery,   Maria Grover - Bitsy Bundles,   Rhonda Arnold - Bella Bambino Nursery,   Judy Burrell - Baby Kisses Nursery,   Crystal - Dream Baby Nursery,     Laud Adonay - Doves Nursery,    Sandra Laville Jensen - Pebebe Nursery.
The list of talented and highly successful reborn artists is long and grows by the week, as more and more artists master the art of reborning.  These specialized 3D artists use transparent layering of Genesis heat set paints and sealers to give the sculpted vinyl kit the realistic blushing, complexion flaws, veining, skin bruises, discolorations and stork bites that bring the sculpt to life. Baby hair is usually micro rooted by a long thin needle and high quality mohair and even human hair. Some baby dolls have hand painted hair and scalps, also applied in many transparent layers to look exactly like a baby head of peach fuzz.
REBORN KITS BY SCULPT ARTIST  The reborn doll kit section of the store has a main store page of sculpted kits for professionals and beginners. This page has the list of sculpt artists in alphabetical order by first name which links to a store page for each of the most popular sculpt artists where you can view their latest sculpts. Reborn doll sculptors included are:  Romie Strydom, Nikki Britt, Jacqueline Gwin, Janni De Lange, Olga Auer, Melissa Pallesse, Jorja Piggott, Cindy Musgrove, Donna Rubert, Denis Pratt,  Adrie Stoete, Dawn Donofrio, Bonnie Brown, Tamie Yarie, Evelina Wosnjuk, Laura Tuzio-Ross,  Tasha Edenholm, Natalie Scholl, Natalie Blick, Linda Murray, Lillian Breedveld, Andrea Arcello, Marrissa May, Marita Winters, Joanna Gomes, Jessica Scheck, Elisa Marx, Elly Knoops, Eva Helland, Gundrun Legler, Nel de Man, Michelle Fagan, Tiny Kewy, Stepahanie Sullivan, Didy Jacobsen, Cathy Rowland, Cheryl Webber, Lorna Miller Sands, Linda K. Smith, Laura Lee Eagles, Jessica Schenk, Ann Timmerman, Claire Taylor, Linde Scherer, Sebilla Boss, Margaret Mousa, Melody Hess, Kathryn Brodie, Anneke Doevan, Danielle Clavette, Emily Jameson, Heather Boneham, Roland Heimer, Shelly Halperin, Maribel Villanova, Shawna Clymer, Sheila Michael, Ruth Annette, Reva Schick, Philomena Donnelly, Regina Swialkowski, Petra Leschner, Pat Moulton and more will be added as this group of exceptional artists is still growing in numbers.